About
Richard Clar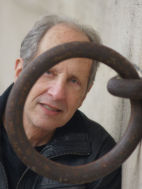 Collaborators
Marc Battier, a French born composer, has worked with computer technology and electro-acoustic methods for over thirty years. Research includes: History of electronic stringed-instrument manufacturing and sound technologies, sound machines in literature and poetry, and the study of the development of electro-acoustic music and acoustic art. Professor of musicology and new technologies at the University Paris Sorbonne (Paris IV). Activities include: Director of the MINT research group; Vice-President of the Electronic Music Foundation; President of the Scientific Committee of the LEONARDO Observatory of the Arts and Technosciences; Co-organizer of the International Electro-acoustic Music Colloquium (IRCAM, Pompidou Centre, October 2003). In November 2003, in co-production with Maat (Ramuntcho Matta) and Alga Maghen, he has released a new CD of his electronic music on nine works by Matta and featuring poems by Zeno Bieanu.
Tetsuro Fukuhara is the director and choreographer of Tokyo Space Dance. He studied Butoh and Improvisation Butoh with Akira Kasai from 1972 to1975 before establishing his own studio in Tokyo. Fukahara belongs to the second generation of Butoh. In 1983 he joined Story of Seven Herbs directed by Tatsumi Hijikata. He then founded Tokyo Space Dance, making his debut in 1990 in Paris and Berlin with the support of the Japan Foundation.
In 1990, in an effort to establish a new global dance without being strictly limited to Japanese Butoh, Fukuhara formed and launched an overseas network. The Japan Foundation, the Japanese Ministry of Foreign Affairs, Canada Council, and several foreign foundations provided support for this overseas network.
In 1995, in London, his successful performance in the East Winds Festival of New Butoh secured his status as an internationally known performer. Beyond his productions in Europe and America, he has discovered a point of view new to Japanese culture in his performances in Beirut (1996), and Kuala Lumpur, Singapore, Istanbul, Ankara, Monterrey, and Mexico City (2000 – 2002).
Fukahara tackles production of the socialization of art and social development programs in and out of his home country of Japan. His Space Dance project combines "Dance + Architecture + Information + Design" in a multi-disciplinary collaboration with dancers, artists, scientists, technicians, and researchers. In 1998 he made Digital Space Dance with the support of the Japanese Ministry of Trade, and Behaviors in the Computer Space with the support of the Japanese Ministry of Education.
Between 2000 and 2003, Fukahara's appearances at international cultural events such as Space Dance Performance and Lecture at the Massachusetts Institute of Technology Media Laboratory in Boston, the United Nations in New York, and the Media Art Festival at ISEA 2002 in Nagoya, were praised for their tremendous audience impact.
In 2004, as a representative researcher with the Japan Aerospace Exploration Agency in Tokyo, he published his study "Space Dance, Someday in the Universe."
Fukuhara's Space Dance in the Robotic Universe was one of twenty performances short-listed by an international jury for the 2006 UNESCO Digital Arts Award in association with the Monaco Dance Forum.
During MutaMorphosis: Challenging Arts and Sciences held in November 2007 in Prague, Czech Republic, Tetsuro Fukuhara presented Space Dance in the Tube, Experience and Expression: How to Get Back the Kinetic Sense, How to Express the Unity in the Space.
Fukuhara continues to teach Space Dance at universities and other institutions around the world that develop new talented students.